Visual content should be an integral part of your online marketing strategy. Adding visual content to your blog is a fantastic way to do that. Not only will it look good…
Coloured visuals increase people's desire to read content by 80%.
Posts with images produce 180% more engagement.
91% of people like visual content over written content. Source
Add an Image
One of the easiest ways to add visuals to your blog posts is to add an image to it. Simply choose an image that is relevant to what it is that you are talking about and add it to your blog post. There are many different free photo sites you can choose from. I personally either use Canva for my images or Deposit Photo but the free ones can be a great choice as well.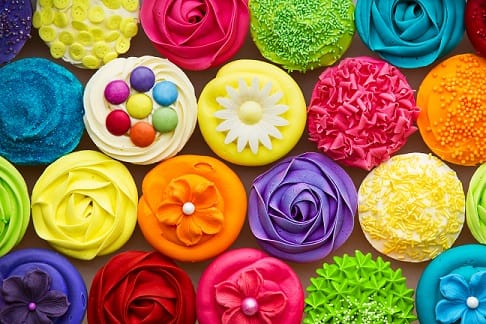 Who doesn't love cupcakes?
Create a Quote Graphic
Quote graphics are great visuals for supporting and encouraging people. You could also quote someone in your industry about the topic you are writing on. Quote graphics are super quick to create.
You can add a picture or a border, or just leave it blankwith the words on it.
I use Canva for pretty much all of my graphics. If you haven't used it, you should definitely check it out. There is a free version – which has loads of features – and also a paid version.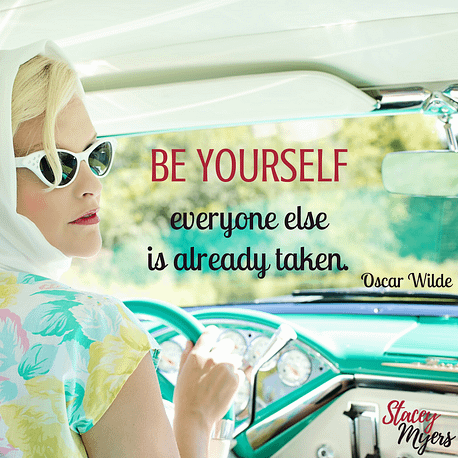 Share a Tip
I am sure your blog posts are full of words of wisdom. Pull out a sentence and create it into a tip graphic. It doesn't even have to be your tip. Again, you could add it to an image or just write it on a plan background.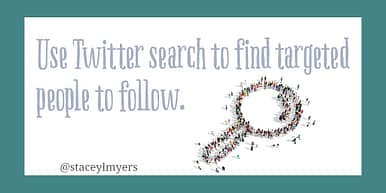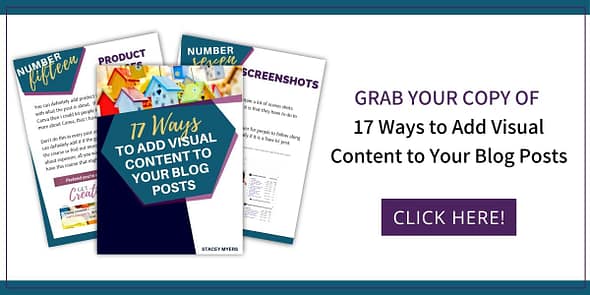 Use Screenshots
Screenshots are particularly great for 'how to' blog posts. Snagit is a tool that I use to take screenshots. If you are looking for a free tool, there is a chrome extension that I sometimes use called Awesome Screenshot. It has loads of different features as well.
Embed Social Media Posts
If you've posted something on Facebook, or one of the other social platforms, you can embed the post right inside your blog post. What's fantastic about that, is people can also interact with your post right inside of your blog. If people like it or comment on it, all of that also shows up in your social media feed. It's kind of like a two for one. Here, I have embedded a FB live that I did about why you should be using visual content in your marketing.
As you will see here, you can also easily embed a video into your blog posts. I took the content from this video and turned it into this blog post. You can use other people's videos as well, if you like. If you are using WordPress, all you need to do is grab the link to the video and paste it into the editor when you are writing your post. A lot of people prefer to watch than read.
I invite you to try at least one of these ideas to keep people's interest when they are reading your blog posts.