Keyword Research for Bloggers
This post's title is keyword research for bloggers, but it really is for anything. This is the same research I do when I am looking for keywords for my videos.
We will go through how to do basic keyword research with some free tools.
Firstly, though, I want to make it clear that it is more important that you actually write blog posts than worry about getting keyword research right. Get those blog posts up!
When I first started blogging, doing keyword research freaked me out a little. I thought there was some trick to it that I just didn't know about. But in reality, it is actually quite easy to do.
I have great news for you!
Simply by writing a blog post on a certain topic you will automatically have keywords in the post. You can't write about chocolate cake without mentioning chocolate cake.
Keyword research simply helps you to hone that in a bit – maybe more people are looking for 'easy chocolate cake' than 'egg free chocolate cake'. This is what you will find out with keyword research.
It's definitely better if you can have a specific keyword that you want to focus on for your blog posts, but, like I said already – it is much better for you to actually get a blog post out there.
I've even put together a document that you can use to track your keywords – in relation to volume and competition.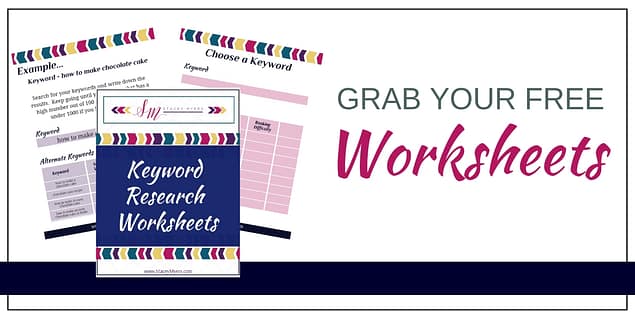 I have a slightly different opinion about views and search than some other people do, but I'll explain that more as we go along.
Before you start with keyword research, you need to have an idea what you want your blog posts to be about.
In 'How to Plan Your Blog Topics' I take you through planning out your blog post topics.
Then once you've decided on a blog post, then you'll be able to come and do your keyword research.
First step is to download a chrome extension. Go to Google and search for chrome extensions. Click Chrome Extensions and it will take you right there. Search for 'Keywords Everywhere'. https://chrome.google.com/webstore/category/extensions

Now what will happen is, every time you search for anything in Google, you will see extra keywords that relate to whatever it was that you searched for.
As an example, I am going to use 'how to make chocolate cake'
Under the search bar you will see the volume per month and the competition. Then down the right hand side it gives you some related keywords as well.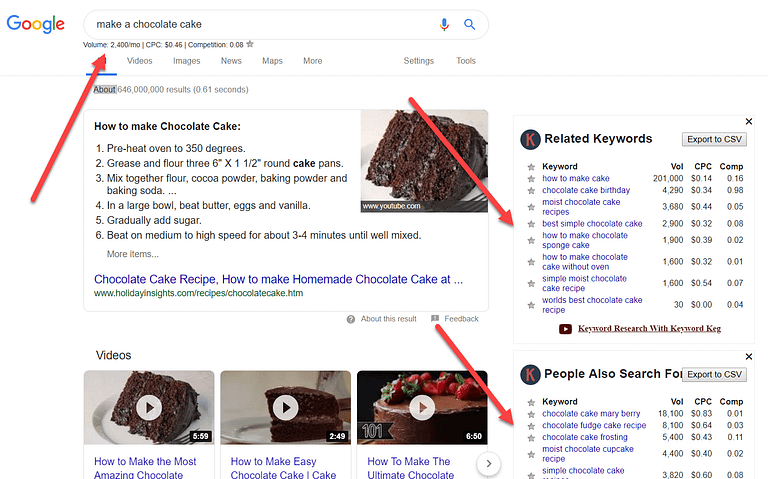 This is a really easy way to come up with some other blog post ideas as well.
I recommend watching the video as well, as I take you right through finding a keyword, using Keywords Everywhere and two other free tools.
You might even be surprised to realise that keyword research can actually get a bit addictive – set a timer.
This will give you an idea about how to start with keyword research for blogging. I'm definitely not an expert on keyword research, but this will get you well on the way.

Links:
How to Plan Blog Posts VideoKeyword Research Chrome Extensions:vidIQTubeBuddy for YouTubeKeywords Everywhere
What tools are you using to do your keyword research? Would love to hear about them below.