Using Gradients in Canva
Anything that will make your graphics stand out is worth a try. I am going to show you how to use gradients in Canva to add a different effect to your photos. (If you would prefer to watch how to do it there is a video at the end of this post.)
Firstly, you want to go to Canva.com and choose the size of image that you want. I have gone for a Twitter post size.
There are 2 different ways to add the gradient – behind, or in front of, the photo.
We will start with putting it behind the image.
Click on 'Elements' and type in gradients. As you will see, there are a lot of different options available. I have dragged it onto the graphic so it takes up the whole area.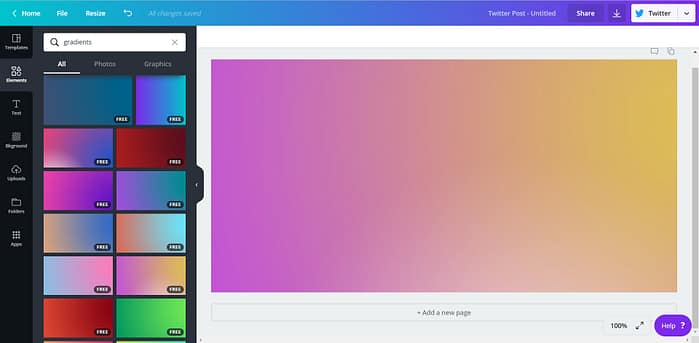 There are even more options once you have it placed in the workspace. You can add filters to it and also can make any number of additional adjustments to it to get it exactly as you would like it.
I then typed in 'people' to find an image to use. I am quite partial to the bagpipes, so went with that.
WORD OF WARNING: click on the image to add it to the graphic, and then resize it. Don't drag it on or it will try to become the background image and you will lose the gradient underneath.
Once you have the image in front, then you want to adjust the transparency of the image. Just play around with the level of transparency until you get it how you like it.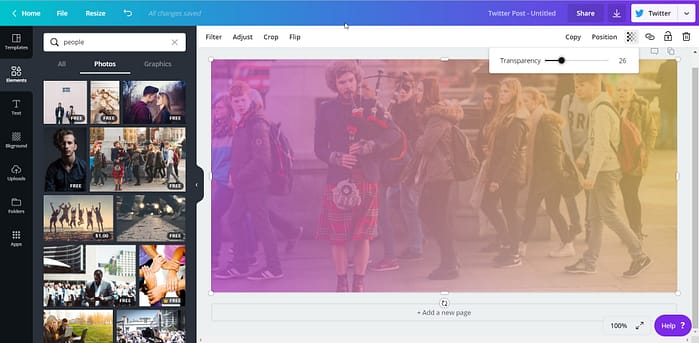 Looks pretty good, right?
The other way is to put the image first and then add the transparency in front of it.
Add the gradient – again, remember to click on it and then resize to fill the shape. If you drag it in it will become the background and you will lose the image in the background.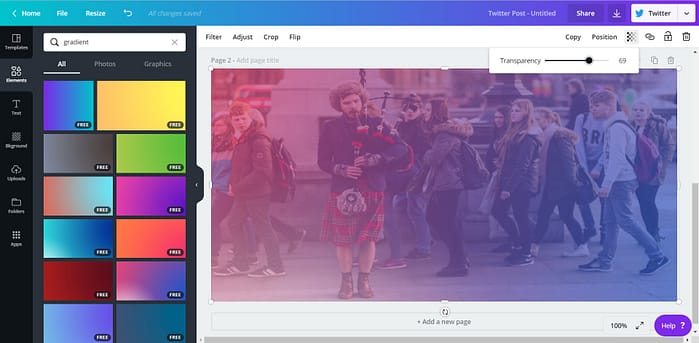 Again, play around with it until you like the look of it.
It really is as simple as that. It only takes a few minutes to add a bit of flair to your image. I'd love to see what you create using the gradients inside Canva.
Prefer to learn by video – this is for you!
You might also like this tutorial on how to use Canva to make reports and checklists.